Announcement of Opportunities
Advertisement No. 4/2017
ISED offers the following openings at its headquarters at Cochin. Applicants are required to carefully go through the Institute website before submitting their application. Detailed bio data may be e-mailed to hr.udyoginstitute@gmail.com.Based on an initial screening, selected candidates will be called for interview. They may seek appointment for interview directly at 0484-2808171/ 2809884.
Multi-task Assistant
Persons with a minimum qualification of Graduation. Essentially office work .Really computer-savvy candidates alone need apply. The work involves research tasks that are sensitive in nature. Capable and ready to do sensitive hard work, strictly according to the Institute's Office Manual and Protocol. Age and experience no bar. Good opportunities of graduation into higher posts, based on performance. If salary is your only attraction, you need not apply.
Graphics Designer
Meant for the Publication Division of the Institute. Need to meet design requirements of publications and web. Experienced hands with background, preferably , in Indesign software, may apply. The Designer is also expected to do other (research-related/office) work of the Institute, applicable to the cadre of Technical Assistants.
Research Aspirants
This is not a post in itself. The Institute welcomes correspondence from candidates with background in Management, Economics, Statistics, Sociology etc., and having clear aptitude for research work. They will be appropriately considered at a suitable position, depending upon their capabilities. Those planning to pursue their Ph.D. also may apply.
Posted On:04-07-2017
Report of the Colloquium on Advancing the Knowledge Economy in India: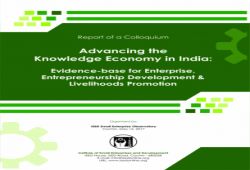 Evidence-base for Enterprise, Entrepreneurship Development & Livelihoods Promotion
Consultants Wanted
We are for looking for Consultants having hands on experience
Able to prepare a conscise Status Paper
Able to recommend clear policy and strategies
Sub sectors: 1) rural transport,2) elementary education, 3)primary health, 4)local tourism.
To work in a Team and ready for consultative meetings at Cochin/Delhi/Mumbai.
Integrated national report by ISED, as Co-ordinator
CV invited urgently: director@isedonline.org
Posted On:10-06-2017
ISED Small Enterprise Observatory deliberates on evidence base for enterprise development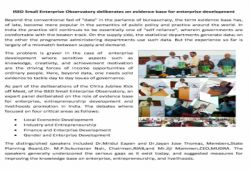 Beyond the conventional fad of "data" in the parlance of bureaucracy, the term evidence base has... Read More
"Decentralization, the Way Out": Kerala Enterprise Development Report released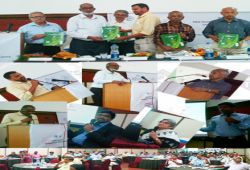 Institute of Small Enterprises and Development (ISED) unveiled a complete story of Kerala's track record on enterprise and entrepreneurship today. Kerala Enterprise Development Report was formally released by Dr.M.P.Sukumaran Nair, Chairman,RIAB. The event was planned by the Institute in order to mark the opening of the China Jubilee celebrations of the Institute's Knowledge platform, 'ISED Small Enterprise Observatory'(ISED‐SEO). Dr.Christie Fernandez,Chairman,KSIDC, declared the celebrations open
ISED Small Enterprise Observatory: Jubilee being kicked off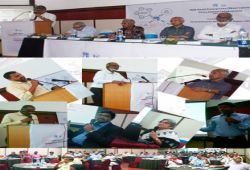 ISED Small Enterprises Observatory(ISED‐SEO), the unique national level knowledge hub, housed at the Institute of Small Enterprises and Development (ISED), kicked off its China Jubilee Celebrations on Tuesday. Dr.Christie Fernandez, Chairman, Kerala State Industrial Development Corporation(KSIDC) inaugurated the celebrations. The speakers included, Dr.M.P.Sukumaran Nair, Chairman RIAB, P.V.Velayudhan, Director , MSME Development Institute, Dr.M.K.Sukumaran Nair, former Head, Department of Economics, Cochin University of Science and Technology
Releasing of Institute of Small Enterprises Development (ISED) & FICCI-CMSME Knowledge paper on 'Improving Ease of Doing Business for MSMEs: A Review of Union and State Initiatives in India'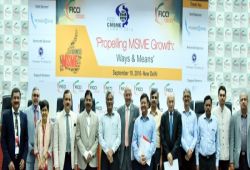 Releasing of Institute of Small Enterprises Development (ISED) & FICCI-CMSME Knowledge paper on 'Improving Ease of Doing Business for MSMEs: A Review of Union and State Initiatives in India'